Atmosphere Generators are commonly used in industrial furnaces and heat treating.  In a continuous industrial furnace, one of the most important variables in achieving a successful process is control of the atmosphere. From the initial installation and start-up of the furnace to its maintenance throughout its life cycle, the process atmosphere demands an attentive eye in order to produce metal parts that are well sintered, meet the specification, and have no defects.
Atmosphere Generators are commonly used in industrial furnaces and heat treating.  Abbott Furnace manufactures several types of atmosphere generators including nitrogen moisturizing systems,  endothermic systems, methane control systems, and ammonia dissociation systems.
Abbott Furnace Atmosphere Generators
Dissociated Ammonia Generator
Abbott Furnace's Dissociated Ammonia Generator is designed to provide an economical source of pure, dry, highly reducing atmosphere. The dissociating process produces an atmosphere gas that consists of 25% nitrogen and 75% hydrogen. This gas can be used in many thermal processing applications where high hydrogen content is necessary for the furnace atmosphere. Dissociated Ammonia provides a dry hydrogen/nitrogen mixture that is produced by passing ammonia through a heated retort that contains a nickel catalyst.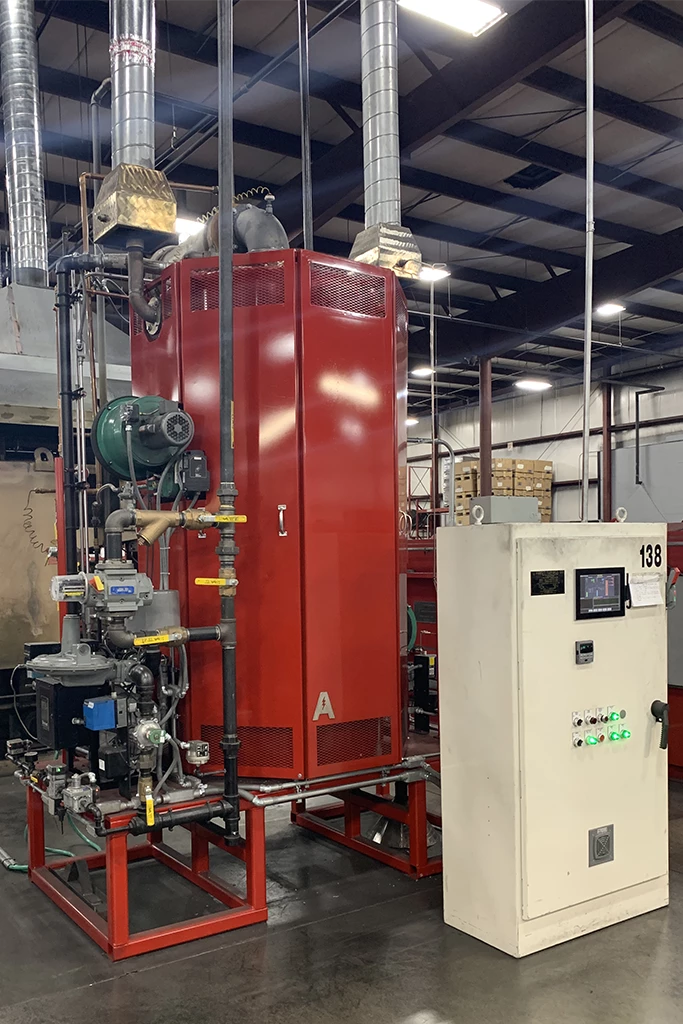 Abbott Furnace Company's Endothermic Gas Generator offers a large capacity with a minimum footprint and automated controls for continuous process furnace needs as a reliable and easy to maintain unit.
Endothermic Generators are used for the hardening of carbon and tool steels, annealing and normalizing of carbon steels, sintering, and brazing.
Nitrogen Moisturizing System
Abbott Furnace Company's solution for enhanced delubing is our Nitrogen Moisturizing System, also known in the industry as a Nitrogen Bubbler. The Nitrogen Moisturizing System is designed to inject a water-misted stream of nitrogen into a continuous furnace to increase the dew point.
F.A.S.T. Moisture Control System
The F.A.S.T. Moisture Control System (FMCS) is a hydration system designed to remove the high carbonaceous vapors emitted during lubricant removal from the preheat zone of a continuous belt furnace using steam injection, allowing the customer to regulate and maintain a constant Dew Point. The FMCS has also been shown to reduce stack emission particulate. 
Methanol Control System (MCS100)
Abbott Furnace Company's Methanol Control System, the MCS100, is designed to inject a constant stream of blended nitrogen/methanol into continuous belt furnaces. The nitrogen/methanol blend creates a process atmosphere that can contain up to 10% hydrogen by volume.